3월 1일자로 게시된 가디언지 글로서 박지성에 대한 칭찬과 그의 작은 역사를 소개한 글이다.
최선을 다하는 그에게 찬사를 보낸다.
http://www.guardian.co.uk/football/2009/mar/01/park-ji-sung-manchester-united
Park Ji-sung: the true player's player
Jamie Jackson charts the rise of the best Asian to have played in English football, Park Ji-sung of Manchester United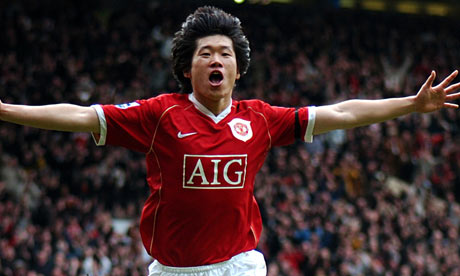 Park Ji-sung had never felt such crushing disappointment as when he stood in the Manchester United dressing room at Moscow's Luzhniki Stadium last May. His United team-mates were about to play Chelsea in the first all-English European Cup final on a rain-soaked night in the Russian capital. And Park was still in his suit.
Despite having played every minute of the quarter- and semi-finals, Park was dropped, and did not even get on the bench. Sir Alex Ferguson called it the hardest decision of his career.
Avram Grant, Chelsea's manager that night, says he was less surprised than the Korean. "In the semi-final against Barcelona, who pass well, Sir Alex needed a hard worker to chase. But he played 4-4-2 that night against Chelsea, he wanted something different."
The Korean media still refer to it as the "Moscow nightmare". Immediately after United had won a third European Cup, Park said: "The team won so I am happy. Personally it is frustrating not to play in such a big game. But there will be other opportunities."
Admirably dignified. Yet the thought occurs that Park's demeanour might have influenced Ferguson's thinking. There are plenty of big egos in the United dressing room, but Ferguson knew he would get no trouble from Park over the decision.
Park, who turned 28 on Wednesday, is certainly self-effacing. A trawl through the archives for anything said since his arrival at United from Guus Hiddink's PSV Eindhoven in 2005 reveals scant pickings from a man who now has two Premier League titles and might claim a second League Cup winners' medal today against Spurs at Wembley.
He says little, despite having improved his English considerably. Yet he is not soft, having won arguments with his former agents, FS Corporation – they sued in 2006 after his father took control – and Hiddink, over his move from PSV. Park also convinced dubious PSV fans of his quality when a knee injury sidelined him after joining Hiddink, the mastermind of South Korea's 2002 World Cup semi-final team, in January 2003.
Rio Ferdinand, United's captain in Moscow, has no doubts about Park. His nickname in his homeland is Mickey Mouse or Sweet Potato – common for Koreans with rugged good looks – but among his team's followers he is known as Three Lungs. "He's a real players' player," says Ferdinand. "Up there with best in world for movement, and so intelligent and direct with runs off the ball. His work-rate is unreal, he adds a dimension no other player brings to the team. He's underrated, a real top player."
And despite a cooling of their relationship Hiddink still has admiration. "People were surprised I took him to Europe," says Chelsea's new head coach. "He does dirty work for the bigger stars. I appreciate those people, always. His skills? He is tireless, can go for 90 minutes, he's a smart player and is very determined."
Grant concurs. "He is a hard worker who balances out the more creative players. He's not a top scorer but can fight for the team. Sir Alex needs a player like this." Park's father, Sung-jong, a guiding influence and a man not shy of offering his insights, is sure of Park's self-determination. "It was all by his will," he says of the transfer to United. "My son said, 'I want to play there,' when he was watching English football matches."
Sung-jong thought any Premier League club would do. But Park's insistence that it would be United – "even if I have to sit on the bench. I want to learn" – is one of the reasons why Ferguson likes him.
And while he has remained the quiet man, under-promoted in England since his move to Old Trafford, Park's arrival in Manchester completed his transformation into a mega-rich superstar in his homeland.
There are commercial deals with most major corporations, his 2006 autobiography Infinite Challenge sold well and made more millions, while his official fan club has over 87,000 paying members.
"Park Ji-sung is by far the most iconic sportsman in Korea and probably the most celebrated in the whole of the region," confirms Davide Grasso, the Asia-Pacific marketing vice-president of Nike whose tills are ringing because of their client.
"While Cristiano Ronaldo and Wayne Rooney may be seen as higher profile in the UK, Park's popularity in Korea dwarfs theirs. And he was recently voted the most powerful and popular individual in sport by Koreans."
Park, born in Seoul in 1981 and brought up in Suwon, near the capital, is already preparing for retirement. He hopes to coach young players rather than tread the touchline, a choice affected by his father's own childhood. "Financially speaking I'm from a very difficult background," says Sung-jong, who met Park's mother Myung-ja while working in a Korea Metals factory. "I couldn't eat very well. That's probably why he wants to support young footballers."
Park's company JS Limited looks after developing talent and has invested in Star Plaza, a £13m complex in his home province of Gyeonggi – where he has also built a home for his parents – that will house a football academy.
Park attended Suwon Engineering school where concern over his stature – he is only 5ft 8in – faded once a coach recommended him for a university team. An impressive performance against South Korea under-23s caught the eye of a senior coach and he was in the squad for the 2000 Sydney Olympics.
In that same year Park moved to play for Kyoto Purple Sanga in Japan and became the star of Gert Engels' team. "I already knew that he had special talent," the German coach recalls. "I knew he was going to be a very good player. But I didn't realise he'd play for Manchester United."
Park helped Kyoto win their only Emperor's Cup, Japan's premier competition, in 2002 – the year his fame reached new heights in his homeland. "Oh yeah, he was very important, he had a tremendous World Cup," says Hiddink. "He scored a goal [the winner against Portugal] and also made some assists. Then, I took him to PSV."
In moving to Europe, Park was following Cha Bum-kun, his country's only other iconic footballer who scored 55 goals in 121 games for South Korea and won the Uefa Cup with Eintracht Frankfurt and Bayer Leverkusen.
Park had a difficult start at PSV, and a complex relationship with his manager. "Hiddink was very different in Holland, the way he treated me and Lee Young-pyo [former Spurs left-back]," he once said. "Having been like a grandfather in Korea, he was more boss. When I'd heard of Holland, I was actually frightened because it's not at all familiar. I had to adjust myself."
Two months after signing, Park needed a knee operation, which angered PSV supporters unhappy about his form. This was a low point: Park despaired. "I had horrible pain constantly. It was really hard that I couldn't show myself when my club's matches were being broadcast to my own homeland. You know, the happiest moment was when I just played with a ball as a boy, carefree, without worrying about anything."
The Park family began to wonder about a return to Asia. "It's really different in Europe," his father says. "When Ji-sung couldn't do well people threw their drinks at him, insulted him. He thought that was strange."
But Ji-sung's toughness prevailed. "He said that he didn't want to hear that he'd failed," his father confirms and by the following season a fit Park was performing. It was up to him to prove himself in the Champions League, Hiddink recalls, and he did. "I was very pleased with his development."
Park announced himself to a wider European audience in PSV's run to the semi-finals in 2005. A team including Marc van Bommel and Phillip Cocu defeated Milan 3-1 in the second leg – Park scored the opener – only to be eliminated on away goals.
Park had also begun English lessons, though he was not confident enough to speak the language when he signed for United. "He's had English tutors since Holland," says his chatty father, who goes on to talk of romance and family life for his son. "He likes being in England because there are Korean female students. I want him to get married soon. I told him, 'Decide as you wish but don't meet a too pretty girl because she will be your lifetime hardship'."
The move to United might never have happened. When Sung-jong received a call regarding Ferguson's interest there was a clash with Hiddink, who wanted Park to sign for three more years at PSV, with the contract stipulating that he could not be sold for less than $10m. Hiddink also reminded Park of his and the club's close ties to Roman Abramovich. "Stay at PSV a little bit longer then move to Chelsea," he told him.
And, when this had no effect, Hiddink grumbled his message was not being communicated by Park's agents. "When I made my mind up for Manchester I felt that I had betrayed him," Park said. "I knew that Hiddink wanted me to stay, so I found it difficult."
Yet not for the first time Ferguson got his man. Park signed for around £4m and called Hiddink before the medical to thank him and assuage his conscience.
Again Park was nervous about the move, saying before he flew to England: "Maybe it will be a lot worse than I expect. But I cannot run away can I? My parents said it is already a big success that I could take part in the English Premier League."
Park's United career can be judged a success. In his first season there were 33 league starts, a debut league goal against Arsenal in April, and the first League Cup medal thanks to the 4-0 rout of Wigan.
And, despite being dropped by Ferguson in Moscow, he is now an integral part of the Scot's thinking. He played last week at the San Siro in United's goalless draw with Inter and is expected to start today. "He has been in fantastic form," Ferguson says. A new four-year deal is imminent, and away from the game Park has settled in Wilmslow, having bought his home from Patrice Evra.
The Frenchman is just one of the United team-mates Park is friendly with. In a local Korean restaurant there is a photograph of Park alongside Edwin van der Sar and Ruud van Nistelrooy. And, as Sung-jong happily recalls, his son has changed. "In Holland, he couldn't talk to his colleagues unless it was absolutely necessary for a year. But he's doing well in Manchester. He invited Wayne Rooney and other colleagues for dinner as well."
Thoughts of embarrassing pauses over post-prandial espressos can be banished. The boy from Suwon and the scally from Croxteth can talk about successes already shared, future glories to come.
And about Park's already storied life.